Best live dealer roulette
Best live dealer roulette
There are numerous options to play live dealer roulette if you are based in Australia. These live dealer roulette sites are free to sign up at, but you will need to deposit real money to play online. Real money live dealer roulette play can net you some great promotions, including cash back deals, sign up bonuses (which are better used on the pokies) and much more. The top live dealer roulette casinos for December, 2023 are:

Live dealer roulette casino sites
What is live dealer roulette?
If you've found yourself struggling to get among the action at the roulette tables one too many times and would prefer to make your bets in peace, online roulette might just be for you. But before you pass it off due to the games being run by computer generated software you can actually play roulette, which is run and determined by real human dealers, on the web.
While Random Number Generator (RNG) roulette is fair when played at our recommended online casinos, live dealer roulette offers a human dealer streamed directly to your desktop or mobile device in real time. He or she will announce bets, call bets, spin the wheel and determine the outcome.
Live dealer roulette aims to mimic the social ambience created at land-based casinos and many providers offer a chat box too, so you can talk to the other players, as well as the dealer.
Utilising web technology the dealer, who can be either male or female and typically quite attractive, is streamed to your device – desktop, laptop, tablet, or mobile – and you can watch as they take your bets, spin the wheel and then announce the outcome. Additionally, the dealer and the other players can't see you so there's no pressure on your appearance, but there is still a social atmosphere created.
There's also a range of customisable settings you can play around with, including the resolution to suit your internet connection, the audio, the camera views for a 360 experience, table views, what croupier you want and what they wear (Microgaming offer Playboy dressed croupiers), whether you want to use the live chat box, and whether you want single play or multiplayer.
Best live dealer roulette
Live dealer roulette is incredibly popular and therefore a variety of software providers have created their own take on the innovative real money option.
However, we have included the best providers available on the Internet, which you will find at our recommended online casinos as detailed below – each accepting AUD currency.
Evolution Gaming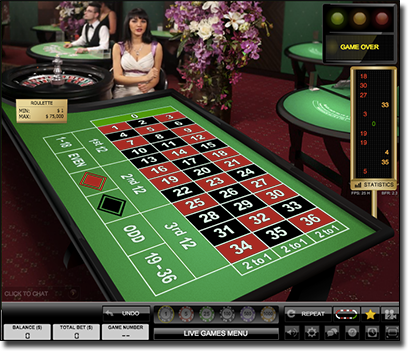 Evolution Gaming is the number one live dealer provider in the industry. They are specialists in creating live titles out of table games like roulette, blackjack, baccarat, poker and more – they've spent all their time crafting these games.
Featuring an array of customisable options, HD graphics, and a high quality video feed, Evolution Gaming has an excellent live dealer roulette collection. They also have a lot more types of live dealer roulette than other software providers, which includes:
Auto Roulette: $0.10 – $5000 – wheel is spun using RNG software
Auto Roulette VIP: $0.20 – $10,000 – wheel is spun using RNG software
Immersive Roulette: $1 to $5000
Live Roulette: $1 to $5000
VIP Roulette: $2 to $15,000
There's a chat box available for each live dealer roulette too.
Extreme Gaming
Extreme Live Gaming was founded in early 2013 and have grown to becoming one of the best live dealer specialists. They've created a unique catalogue featuring a special X-Mode, plus they offer an array of uniquely themed live dealer roulette titles, as follows:
Club Roulette: $1 to $10,000
Classic Roulette: $1 to $75,000
Golden Ball Roulette: $1 to $75,000
Sizzling Hot Roulette: $1 to $2500
Lucky Lady's Roulette: $1 to $75,000
Dolphin's Pearl Roulette: $1 to $75,000
Ra Roulette: $1 to $75,000
Auto Roulette: $1 to $75,000
Multi Wheel Roulette: $1 to $75,000
The Multi Wheel Roulette title mixes an array of the games from above, for example Multi Wheel Table 1 offers wheels from Live Golden Ball, Classic Roulette, and Low Limit Roulette.
The themed live dealer roulette titles feature unique graphics too, for example the Dolphin's Pearl Roulette is set under the sea – these themes are based on their popular pokies.
There's also monthly tournaments which you can access via the live dealer roulette lobby and there's a chat box available on all titles.
Net Entertainment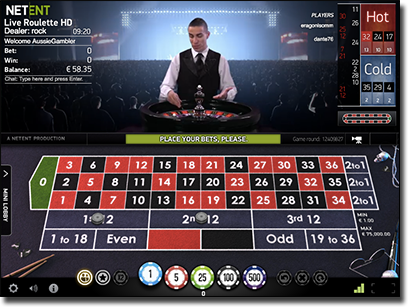 NetEnt have only recently been focusing on their live dealer catalogue, but now have an extensive live roulette collection. Their HD graphics and customisable options mean you can create a personable experience, while there is a chat box on all titles except the VIP tables.
What's more they offer unique themes now too, including a rock theme where the dealer has a backdrop a rock concert while spinning the reels.
Live Rock French Roulette: $1 to $75,000
VIP Live Dealer Roulette: $1 to $75,000
Live Dealer Roulette: $1 to $75,000
Automatic Roulette: $1 to $20,000
Microgaming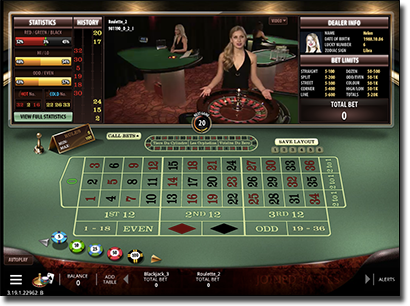 Microgaming are highly respected in the iGaming industry, and their live dealer catalogue offers a unique take on the concept due to the ability to choose what your croupier wears – out of the traditional dress and a Playboy Bunny costume.
However, Microgaming teamed up with Evolution gaming in 2015 to revamp their catalogue but we still get treated to the same options we did before.
The traditionally dressed live roulette croupiers offer elegant table graphics, while the Playboy Bunny dealers offer a more modern gaming environment.
Classic and Turbo:
>Live dealer Roulette: $0.5 to $10
Live dealer Roulette: $1 to $25
Live dealer Roulette: $2 to $50
Live dealer Roulette: $5 to $100
Live dealer Roulette: $10 to $200
Turbo tables offer a faster pace in terms of gameplay.
Playboy:
Live dealer roulette: $1 to $25
Live dealer roulette: $2 to $50
Live dealer roulette: $5 to $100
Unfortunately, none of Microgaming's live roulette games offer a chat box.
Ezugi
Ezugi is another top software provider which only specialise in live games. While they offer unique titles including Live Lottery and Live Keno, they have a limited number of live dealer roulette tables. You will find just one live dealer roulette title by Ezugi, as follows:
Live dealer roulette: $1 to $5000
Top live dealer roulette sites 2023
There are a selection of premier online operators offering the aforementioned providers and their live dealer casino games, each of which have been verified by real players as offering a secure and fair gaming environment.