Crown Casino Perth
Crown Casino Perth
Crown Perth is the sister casino to Crown Melbourne and while it can sometimes be overshadowed by the latter venue, it still has plenty to offer. Located on the banks of Swan River, just three minutes away from the train station and 5km from the city's centre, Crown Perth is a 24-hour casino offering an array of gaming facilities – though pull down pokies are not available – as well as accommodation, restaurants, bars, and nightclubs.
The biggest draw card of Crown Perth however is the two-up ring, which is available every day of the year making it the only venue to offer a legal two-up ring all year round.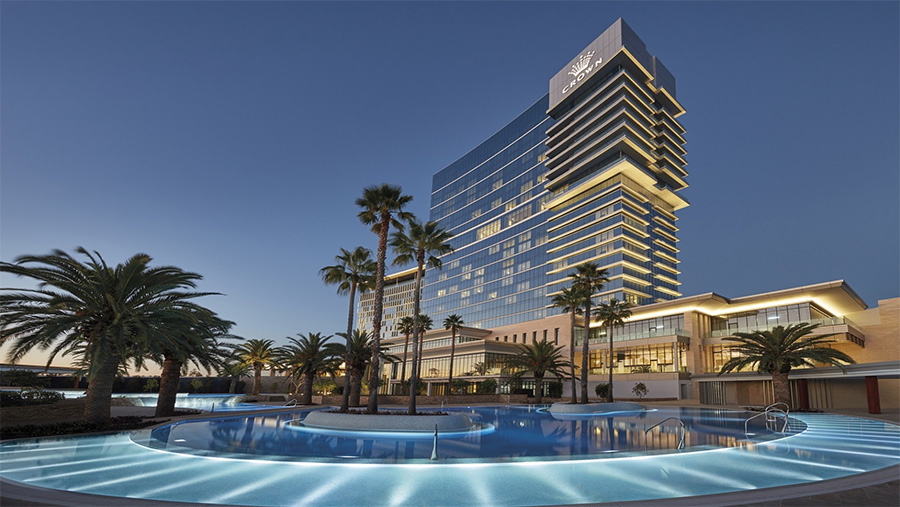 History of Crown Perth
Crown Perth was actually built before Crown Melbourne in the 1980s, when it was proposed to occupy a landfill site by Perth businessman, Dallas Dempster.
Construction began but when it was opened it didn't go by the name Crown Perth. Instead when the $200 million project was finished in 1985, it was called the Burswood Island Casino and was at the time considered to be the biggest casino in Australia.
In 1990 an expansion was proposed, which saw an improved high roller section when it re-opened in 1995.
A decade later the Burswood Island Casino saw another renovation, but this time seeing additional bars and a nightclub added, with the overall construction valued at $96 million.
In 2004, Australian media tycoon, Kerry Packer, acquired the complex and from 2006 to 2008 new gaming sections were added. The additions included a VIP section called The Pearl Room, a higher stakes section for the general public called The Riviera Room, a new sports bar called the Carbon Sports Bar (now the Crown Sports Bar), and finally a new poker room.
It wasn't until 2012 the Burswood Island Casino was renamed, and this was thanks to Kerry Packers son, James, proposing the re-branding, and was established as Crown Perth.
What games are available at Crown Perth?
With around 60,000 square feet, there's an array of casino games to suit every player – except due to state legislation in WA electronic pull-the-lever pokies aren't available.
The casino is open 24/7 so you can get amongst the action irrespective of the time.
Electronic Gaming

Legislation does not permit reel pokies, operated with a pull-down lever, in Western Australia, meaning you won't find these type of electronic gaming machines at Crown Perth.
However, there are still over 2500 coin-operated gaming machines available to fill the void, including video poker and electronic keno.
Crown Perth also offers an exclusive electronic gaming machine only room known as the Meridian Room where there are over 400 electronic machines with dedicated attendants, as well as a café for Crown Club members (see below), a bar, snacks, and more.
Table Games
Table games are in abundance at the Perth land-based venue with over 240 table games (132 table games were initially available when it was first opened), which see approximately 12 in operation at any one time.

Baccarat
Blackjack
Blackjack Plus
Casino War
Crown Hold'em Poker
Crown Stud Poker
Money Wheel
Roulette
Rapid Roulette
Vegas Star Roulette
Various table limits are available, with many of the games also available in the VIP rooms which we detail below, offering higher stakes.
Crown Poker
Crown Melbourne will most likely always be considered the best place to play poker at a land-based venue in Australia, but thanks to the relation Crown Perth isn't too bad of a place to play either, especially since the Qualifying Series for the Aussie Millions Main Event is hosted here.
Crown Perth has a dedicated poker room offering real money games and tournaments, operating 24 hours a day on the weekend, and 18 hours on weekdays.
Two-up ring
The main star of Crown Perth is the two-up ring which is available, legally, all year round. This makes it the only venue in Australia to offer a ring which operates, legally, other than just on ANZAC Day.
VIP gaming
Crown Perth offers two rooms for higher stakes including the Riviera Room and the Pearl Room, however only one is available to the general public.
The Riviera Room features high table limits for games such as blackjack, roulette, baccarat, Crown Hold'em, and Vegas Star Roulette. Anyone is welcome to play, provided you can meet the table limits.
The Pearl Room on the other hand is much more exclusive and only players who have a Crown Club membership with 300 Crowns accrued (one Crown is earned via 300 points by playing casino games) are eligible to play here. The Pearl Room offers private bars and high stakes gambling, as well as a 180-degree view of the city.
Crown Club membership
All players can sign up to become a Crown Club member, though it is essential if you plan on gaining access to the VIP Pearl Room. The Crown Club allows you to earn points in exchange to receive special offers, food and drink vouchers, discounted parking, and more depending on the amount you play. See the information desk for more details and to sign up.
Entertainment and facilities at Adelaide Casino
Crown Perth offers an array of entertainment, restaurants and bars for the times you aren't trying your luck on the gaming floor.
Restaurants: There are around 16 restaurants at Crown Perth ranging from premium dining to casual and quick bites. We recommend the Atrium buffet for all you can eat, featuring five food stations from a wide range of cuisines. Become a member of Crown Club to get discounts and food and drink vouchers too.
Nightlife: There are 12 bars at Crown Perth, including the popular Crown Sports Bar which offers TAB facilities and huge screens for major and minor sporting events. There is also one late night lounge called Minq and a popular nightclub called Eve.
Live Theatre: Crown Perth offers a 2300 seat theatre, which hosts popular international and national performances, including the Lion King, Cats the Musical, ballet, comedy and more.