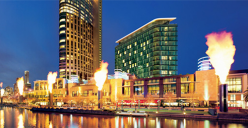 Recent investigations conducted by the Victorian Gambling and Casino Control Commission (VGCCC) have once again uncovered discrepancies in the operations of Crown Resorts' Melbourne venue.
The Royal Commission discovered the casino provided gambling chips to punters in exchange for blank cheques. This latest offence could earn it another AU $100m fine from the Victorian casino regulator, making it the third disciplinary action it will be receiving this year.
The ongoing probe revealed that Crown Melbourne allowed guests to tender blank cheques, clearly going against Section 68 of the Casino Control Act that forbids casinos from granting credit to patrons in relation to any betting or gaming.
The investigation also found the casino guilty of letting gamblers write cheques to themselves which they later turn to the casino in exchange for playing chips. This unlawful act by Crown Melbourne has exposed its guests to gambling harm, as they are liable to gamble away more than they have.
"The Casino Control Act establishes restrictions on Crown's financial interactions with its patrons," VGCCC chairperson Fran Thorn said.
"These restrictions are vital because they protect patrons from gambling beyond their means and guard the Melbourne Casino against criminal influence and exploitation," she continued.
"The Royal Commission found that Crown adopted practices involving the use of blank cheques and bank cheques that breached these important restrictions."
When questioned, the casino responded in a statement that it will continue to fully cooperate with the commission and implement "comprehensive reforms" that will ensure that "compliance failures do not happen in the future".
However, their remorse does not move the regulator as it still looks to change the casino's scope of license or issue it a letter of censure, apart from the fine, if no significant changes are made soon.
Crown Melbourne has a history of evading rules and regulations, leading to a series of investigations including this one. It was found guilty in May of allowing the illegal use of China UnionPay cards – a scheme that allowed the illegal transfer of funds from China and resulted in about $164m going through its system disguised as "hotel expenses".
This earned them $80m in fines, a record in the commission's history. Subsequent investigations found the casino guilty of several AML and social responsibility failures.
Despite the apparent mess, the US-based private equity giant, Blackstone, acquired Crown Resorts in June this year for $8.9bn. This has resulted in a management shakedown that hopefully will restore the company to the good books of the government.
Crown Resorts holds the only casino license in Victoria, with this allowing them to offer live casino games such as blackjack, roulette and poker at the CBD venue.