Visa deposits
Visa deposits
We play at the best online casinos, so why not pay with the best payment option? Visa is one of the most used payment methods both online and offline, so it makes sense that we opt for the secure payment method when we are making a deposit.
Visa, whether it is with a credit, debit, or prepaid card, is one of the safest payment methods available, and each card option offers quick processing time making it an excellent deposit choice when playing online.
There are some limitations however, but we detail these below, along with how to make a deposit safely with Visa.

Best online casinos
What makes Visa a secure payment method?
Visa is renowned globally as a secure payment method. It's reputation extends from here in Australia, right around Europe, and even to Africa and the Middle East.
Its reputation definitely began at land-based outlets, but when the web was introduced Visa went online and is now one of the most popular payment methods when paying for goods and services on the web.
While the Internet has brought scams and questions of security with it, it has also brought data encryption technology that both our best online casinos and Visa use to protect you and your details when making a deposit.
Visa features that make depositing online secure
When making a deposit online, players can rely on two security features offered by Visa, one of which you do need to sign up for.
Verified by Visa for online gambling transactions
Verified by Visa is a an extra layer of security to the already secure payment method that you do need to opt in for.
You can easily do so at your financial institution where you will receive a password via SMS or physically from your bank teller to use when depositing or checking out. When you do make a deposit you will then be required to enter this password as well as all your card details. This prevents someone getting a hold of your card and using it as it won't process without this extra password.
Card security code when making casino deposits
Also known as the CVC or the CVV, the card security code is the three digit number on the back of your card which makes depositing easier and safer, if you want to store your Visa card with the online casino (only recommended if you're playing at our listed online casinos as these have been investigated and approved as safe by third party organisations).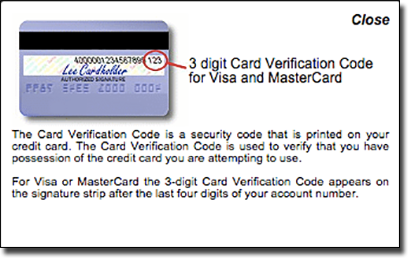 When you first fill out your card details when making a deposit you will be prompted to enter the three digit code here, but if you opt to store your card, next time when you go to deposit you will just be required to enter the three digit code, and that's all.
This makes it an incredibly quick process, while also being secure.
How to make a casino deposit with Visa cards
The process is very similar regardless of the type of Visa card you are using. Simply sign up to one of our favourite online casinos to ensure your details are encrypted and ultimately protected, then head to the cashier page.
Some online casinos will group Visa under one category of 'Credit and debit cards', while others will separate the categories. Click on the appropriate one, enter the amount you wish to deposit, and then enter your card details including the CVV or CVC.
For prepaid cards, enter 'Account Holder' in the name field, instead of your name, and then fill out the rest of the fields as you would with a credit or debit card (including number on card, expiry date and the security code).
Press confirm and your funds will be processed immediately provided you have entered the correct information.
Which Visa card should you use?
This depends on what you have, and what is accepted.
Visa credit means you can deposit anytime regardless if you have money in your account, but we do recommend only doing so if you have incoming money to pay it back
Visa debit means you can only spend what you have in your account
Visa prepaid is a great option if you don't have a Visa credit or debit card, or either of these aren't accepted.
Why isn't my Visa card accepted at Internet casinos?
If you have signed up at our recommended online casinos, tried to make a deposit a few times ensuring your details are correct, only to have it rejected, it may be because of your financial institution.
Some financial institutions do no accept gambling transactions, even though they issue Visa cards that by default accept gambling transactions. These include Diner's Club, Suncorp, and Citibank. You can attempt to try and deposit but you may be charged the fee that other financial institutions incur for gambling transactions.
The Commonwealth Bank is one of these financial institutions that incurs a fee called the Cash Advance fee when you make a deposit using your Visa card.
Ensure you read your bank's policy regarding gambling transactions and if you want to void these fees try a prepaid Visa card.
Is it safe to use your Visa card at online casinos?
As we have reiterated throughout this article, it is incredibly important you are playing at a reliable and trustworthy online casino such as the many we recommend here on our site.
Click on their links to sign up and all of your details including your personal and financial information will be protected by both modern encryption technology and third party organisations that govern the Internet casinos.
This way you will be able to use a safe payment method at a safe online casino offering only the best casino games.