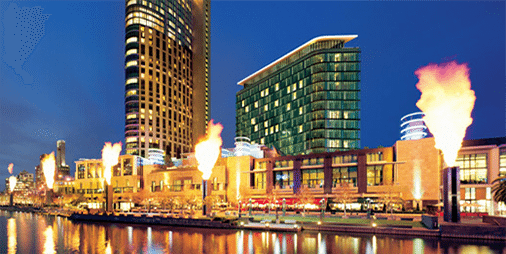 Gaming and hospitality employees at Crown Melbourne are threatening mass protests if conditions for late-night shifts and weekend work do not improve.
Representatives for the 5500 workers at Australia's largest casino complex have rejected a 2.75 per cent pay rise, which falls some way short of the desired 5.0 per cent hike.
They also want a $3 per hour increase for the so-called 'graveyard shifts' between 7pm and 7am on weekends.
Crown has been working on a new wage agreement since April, but has yet to reach any accord with the casino workers' union, United Voice.
Union officials insist an improvement to weekend rates is essential compensation for workers who sacrifice so much of their social and personal lives.
"Most Crown Melbourne staff work at least 40 or more weekends per year and say this means they routinely miss out on birthdays, weddings and children's milestones; even simple catch-ups with friends are often impossible," said a United Voice spokesperson.
To further the case for better weekend rates, the union is collecting hundreds of personal stories from Crown employees.
One staff members wrote: "I missed multiple family parties and get-togethers. Times when my grandparents, my parents, my brothers and sisters and my daughter have been present but I haven't.
"Family and moments like these are precious. I can't get these occasions back."
In lieu of overnight penalty rates, Crown pays a greater hourly wage than the standard award for hospitality workers in Victoria.
A refreshments attendant at the Southbank casino earns $22 per hour ($44,000 per annum), while a table games dealer with five years' experience can take home as much as $60,000 a year.
"Crown employees continue to receive higher pay and conditions than the tourism and hospitality industry," a Crown spokesperson said.
"Since 2013, Crown Melbourne has added more than 1000 new jobs and provided existing staff with valuable training and career development opportunities."
Crown enjoyed a 30 per cent profit boost last year, finishing some $662 million to the good.
United Voice's Victorian secretary, Jess Walsh, believes the casino staff deserve a bigger piece of that pie.
"Our members are proud of the world-class service they provide but feel it's time that Crown management recognise the sacrifices they make working on weekends and their contribution to Crown's success," Walsh said.
"They are prepared to do whatever it takes to win the respect and recognition they deserve.
"Working at Crown means they miss out on important events with family and friends. There is also a heavy health cost to working these hours.
"It's time Crown recognised these sacrifices."
Gaming and hospitality staff, security guards and maintenance workers at Crown are set to band together for large-scale protests in the Melbourne CBD this Friday, August 12.