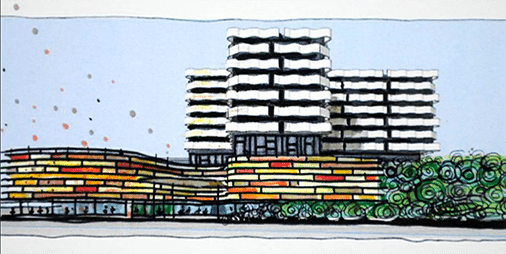 Developers are hoping to convince the Victorian government to issue a second casino license after unveiling plans for a new gaming complex in Mildura.
The proposed $300 million project at Seventh Street and Langley Avenue features a casino, convention centre and five-star hotel.
Victoria has repeatedly knocked back plans for a second casino in the state, including an earlier proposal for a Mildura venue in 2011.
Bob McIver of Australia Cove Limited, the developer behind this latest attempt, insisted the new plans would encounter fewer logistical roadblocks than previous models.
"Other projects that have been mooted probably had an incorrect strategy for success," McIver said.
"The first project mooted here was a public-private partnership and by definition that makes it a lot harder to get through and to get people to agree on because it was going to incorporate Crown land on the river's edge."
The push for a Mildura casino is fast gathering momentum on the back of strong support from local residents, civic bodies and tourism boards.
"It offers huge potential for our region, in economic development — jobs and growth," said Jenny Grigg, chairman of the Mildura Development Corporation.
"We're looking at 800 jobs in construction and 800 ongoing jobs.
"The potential is to provide our young people with new and exciting career paths, not just provide them with a job but new career paths and take them into a productive future.
"The flow-on effects that this project provides are massive."
Adelaide Casino records profit despite gaming revenue losses
Refreshment sales and a boom in international business saw Adelaide Casino register a profit for the 2016 financial year, SkyCity Entertainment Group revealed last week.
However, the New Zealand gaming giant's full-year reports also showed a drop in gambling revenue at the North Terrace complex.
While earnings from food, drink and other non-gaming streams were up 20.5 per cent to $23.4 million, takings from gambling and betting activities decreased 4.3 per cent to $128.4 million.
SkyCity chief executive John Mortensen said: "While we are pleased with the improved performance at Adelaide Casino, challenges remain delivering local gaming growth in a soft market.
"Growing our share of the local gaming machine market in South Australia is a key focus for FY17."
Key to the casino's future growth is a $300m expansion and renovation scheme that will add brand new dining, accommodation and gaming facilities.
The Adelaide Riverbank project has encountered several delays, with construction now scheduled to start in the latter half of 2017.
Crown Tokyo on the cards as Japan moots new casino laws
James Packer's dream of opening a casino resort in Japan could become reality if the nation's parliament passes proposed changes to gambling legislation.
Yuriko Koike, the recently elected governor of Tokyo, is expected to throw her full support behind the Liberal Democratic government's push to legalise casinos in certain regions.
With Japan's economy stagnating, Koike has reportedly welcomed the idea of building a state-of-the-art gaming complex to take advantage of the resulting tourism boost.
It was thought Packer was winding down his overseas interests when Crown Resorts reduced its stake in Melco Crown – a joint venture in the Macau casino strip.
But this latest development has reignited hopes of a flagship project in Tokyo, which is ideally located to draw customers from China, Taiwan, Hong Kong and south-east Asia.