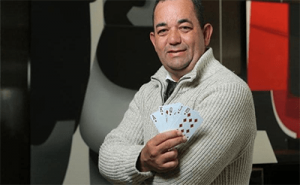 A father of two walked into Perth's Crown Casino last Thursday and changed his life forever when he turned a $10 bet into a $2.7 million win on a game of Texas Hold'em poker. Nigel Williams was dealt a royal flush, the best possible hand in poker, a win which he says was based purely on luck and not on skill.
The dealer had already flopped an ace, queen and jack when Mr Williams was holding a 10 of diamonds, with three diamonds on the table in front of him. He hoped for a diamond of any value in order to earn him a lucrative flush, when suddenly he was dealt a king of diamonds, securing him a royal flush and the $2.7 million win.
"I didn't say anything at first. My mind was going, 'Hang on, am I dreaming? Have I got a diamond? Is it a heart?'" Mr Williams said. "The dealer called over the pit boss and once they said, 'Right, it's official', that's when I stood up and screamed. I just screamed a big African scream, like a lion."
If he'd taken the $15 bet, the jackpot would have been $3.8 million.
The first thing Mr William did after the reality of his win sunk in was call his wife and give her the good news – which was met with an unexpected scalding.
"She said, 'What are you doing at the casino?" Mr Williams said. "And I said, 'Did you hear what I just said?' and she said, 'What are you doing at the casino?'"
Channel Seven reporter Geof Parry asked Mr Williams how he planned to spend his winnings, and was met with a surprising response. Mr Williams broke down in grateful tears, saying all he wants to do is spend more time with his children. As a self-confessed workaholic, he intends to now cut back his working week to just five days and use the money to focus on his family life.
Improve your poker skills online
Although Nigel Williams attests that his multi-million-dollar win was due to nothing more than luck, poker is a game that also fundamentally relies on a certain level of skill and strategy in order to win. With land based casinos around Australia often having poker tables with high buy-ins, it can be a difficult and expensive game to get your head around.
This is where online casinos really come in handy, as they offer the option of playing poker for free in practice mode. You get the chance to sharpen your poker skills and try out different strategies with no risk to your bankroll, so online play can be as entertaining as it can be educational.
When you're confident with your poker skills, you don't even need to head out to your closest casino to play, you can just sign up online, make an instant AUD deposit and start playing for real money right away. Even if you prefer the bright lights and buzz of playing in a land based casino, playing online offers a convenient alternative for those nights where you can't make it out.
Give online poker a go at Leo Vegas Casino, a top-rated site that offers many poker variants including live dealer poker where you can get to play against real human croupiers. Sign up using our links to claim a 200% matched bonus on your first deposit and start playing poker for free or real money bets and you could be as lucky as Nigel Williams.